Southwest Michigan's Premier Assisted Living/Memory Care Destination
From the moment you walk into Symphony Applewood, you will feel as if you are in a cozy cottage. Our tranquil and serene environment ensures the utmost comfort for our guests, whether they live here or are here to recover and get back home. Located in Woodhaven, Michigan in Wayne County. It is located on Van Horn Rd. just east of I-75 (exit at Gibraltar Rd. or West Rd.)
We know that finding the perfect facility to address your loved one's needs can be a challenge, and we're here to help. Scroll down to learn why Symphony Applewood is SW Michigan's ideal Assisted Living/Memory Care destination.
Enter your email to receive more information or call now and you'll save $3000+ after move-in! Online-only offer!
At Symphony Applewood, we have a dedicated staff of healthcare professionals whose heartfelt mission is to keep your loved ones healthy and safe while under our care. With the onset of COVID-19, we have taken that commitment to a new level, employing stringent "Symphony Safe" measures across our entire network, which involve the implementation of the most advanced infection-prevention strategies available.
Key Measures Include:
Daily disinfections using eMist TruElectrostatic™
Installation of AIRPHX air purifiers
Check-in kiosk with temperature checks
Mandated personal protective equipment (PPE)
Symphony Applewood is one the most innovative providers of assisted living and post-acute care in southwest Michigan. Our dedicated and experienced care providers and teams are here to provide our guests with the services they need to heal and recover. We offer a harmonious approach to care that takes into account our guests' unique needs and utilizes a progressive healthcare model to provide them with personalized rehabilitation programs designed to offer the most complete possible recovery.
Our guests' ability to maintain independence and peace of mind is our number one priority, and we strive to deliver the highest quality of service and care.
Features:
All meals, housekeeping, linen, recreation, and requested care are available.
Each suite is fully-furnished with a refrigerator, microwave, and private bath.
All suites feature heating & cooling units.
Guests have the option of dining together in a cozy dining room overlooking a private courtyard or dining within their own room.
Cable TV
In-room call lights
Outdoor patio
Full-service salon
Beauty shop
Movie theatre
Wellness Program
The Dover Memory Care Inn offers an assisted living environment for guests dealing with memory loss.
Features:
Secured Entrances and Exits
Enclosed Outdoor Courtyards
Dedicated Life Enrichment Programs/Activities
Quiet Places to Relax
This Inn is staffed with a expertly-trained memory care team and offers programs specifically designed to meet the needs of these guests.
On-Site Dialysis Boutique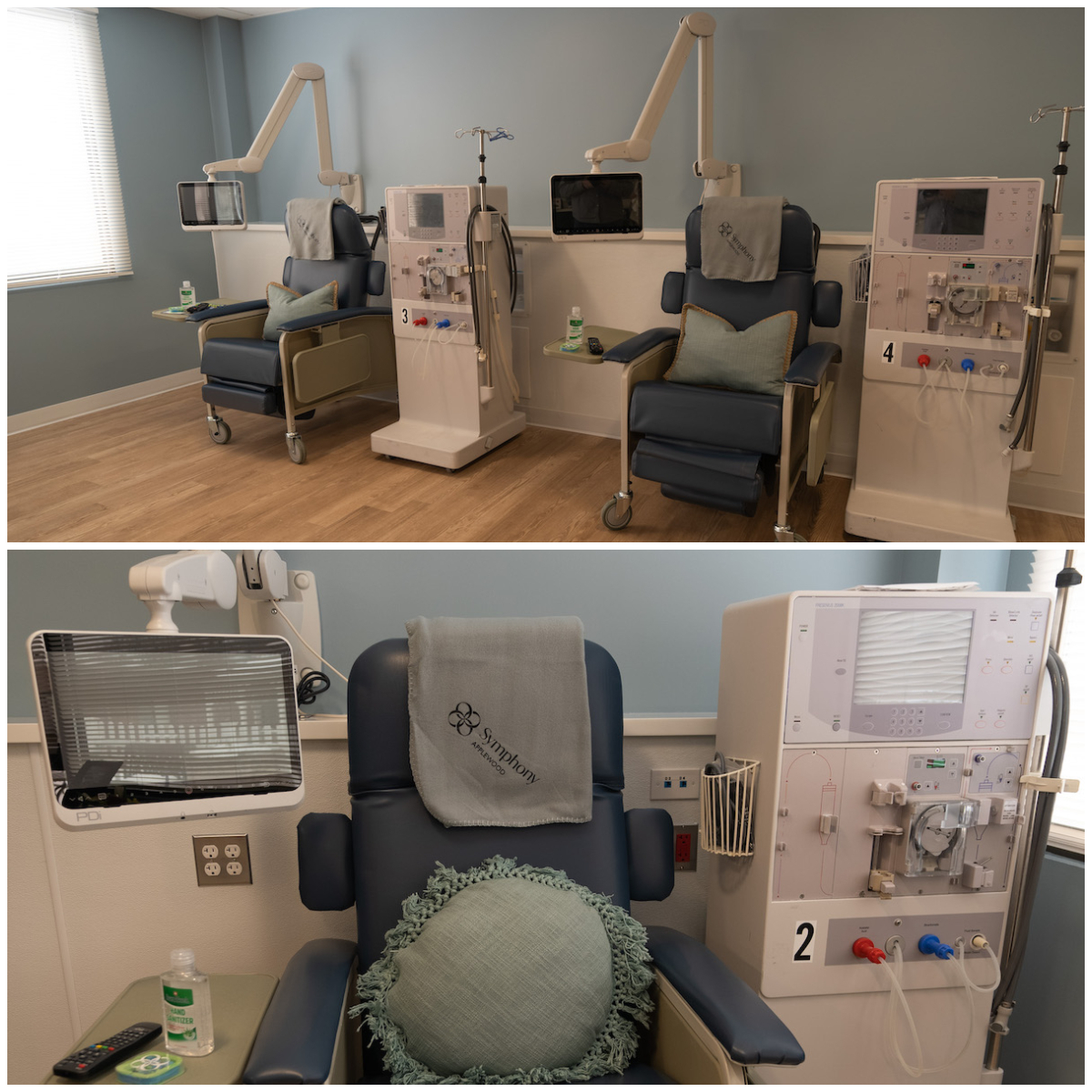 On-Site Dialysis Offers Convenience & Safety
Symphony Applewood is proud to offer on-site dialysis services. Our skilled team will ensure the highest quality dialysis treatment, without requiring guests to travel.
Our on-site dialysis offers:
Traditional three-day hemodialysis services on-site
State-of-the-art equipment
Clinical team of dialysis specialists
Benefits to patients:
Dialyze in place
No transportation risk
Reduced risk of:

Spread of contagious illness
Injuries associated with accidents

Enhanced quality of life with more time for:

Facility activities
Social time
Rehabilitation
Visit Us
18500 Van Horn Road
Woodhaven, MI 48183
Get More Information
We'd love to hear from you! Please feel free to fill out the form below and a Symphony Applewood team member will be in touch with you as soon as possible.